10 Romantic Holiday Movies To Watch This Season
The 2022 holiday Season has officially arrived- changing leaves, colder weather, and before you know it, the snow will be falling, and you'll be dreaming of being curled up on the couch in front of a fire with a cup of hot cocoa (or glass of wine!) It's also the perfect time to sit down with your favorite person and watch a romantic holiday movie. After all, there's simply nothing like a feel good love story. If you're looking for a seasonal rom-com to enjoy, we've got you covered. From all time classics to newer faves, these are ten romantic movies that will get you excited for the holidays, and give you all the feels. Grab your person, curl up with a blanket, and put on one of these gems for a movie night with some holiday inspired romance.
Perfect for the fall season, this is one of those classic rom-coms that you can watch repeatedly. The biggest stars of the 90's movie days, Tom Hanks & Meg Ryan come together in this story of fate, and unexpected encounters. She's a struggling bookstore owner, he's a corporate book businessman. Their lives become connected when they fall in love with their online paramours, not realizing the entire time who the other person is. There's plenty of memorable scenes to love, including an iconic Thanksgiving one. It's a traditional romantic film that offers up the feel good happy ending that will have you believing in true love and fate.
Where You Can Watch: "Hulu"
Photo by Serdecznie Polecam
Number 2- "Sweet November"
Forewarning on this one- if you haven't seen it, just know that you'll be sobbing by the end. Keanu Reeves & Charlize Theron are two complete opposites who decide to spend the month of November together, after she convinces him she can change his life. Although it might seem like they have nothing in common, they end up falling in love, and November is their forever month. It's not technically a holiday movie, but there's thanksgiving, and plenty of fall inspired colors to put you in a seasonal mood. Without giving too much away, there's some unexpected events that cause these two to fall apart, but it's worth the watch to make your heart burst. You'll never look at November the same.
Where You Can Watch: Rent on "Amazon Prime"
Photo by Enigmatticss




Number 3- "Harvest Moon"
What's a romantic holiday list without a "Hallmark Channel" movie to make you cry? When a former wealthy trust fund kid (Jessy Schram) finds out her family went broke, she moves to a struggling pumpkin farm hoping to fix it up, where she meets a handsome farm manager (Jesse Hutch). They inevitably don't see eye to eye, but eventually find their way to each other. The beauty of the fall colors alone is worth the watch. True to from, it's a typical "Hallmark" styled rom-com, but you'll find yourself watching till the end. It's sappy and a little cheesy, but it's the perfect pre and post thanksgiving movie to enjoy.
Where You Can Watch: " Amazon Prime"
Photo by J Schramer
This is one of the holiday movies that you've probably already seen dozens of times, but it's one of those movies that seems to never get old. The film focuses on the lives of eight separate couples, and the drama they find themselves in during the holiday season. It covers all the bases- young love, unrequited wanting, and even heartbreak. Plus, who could forget that famous professing of love over cardboard scene? Big names stars like Kiera Knightly and Colin Firth lend their acting chops to this cult classic film, and whether you love it or loathe it, it will always make for an entertaining watch.
Where You Can Watch: Rent on "Amazon Prime"
Photo by Candid Cine Club
This movie doesn't get nearly enough praise or mention, and we think that should change. It often gets overlooked for other Christmas rom-coms (looking at you "Love Actually") but it's far too wonderful of a movie to be skipped. Cameron Diaz & Kate Winslet star as two women who swap lives to avoid their own romantic turmoils, by renting each other's homes. Jack Black & Jude Law also appear as their respective love interests, with some great performances too. It's a lovey-dovey feel good holiday movie that is bound to be your new favorite.
Where You Can Watch: "Hulu", "HBO Max"
Photo by Access Hollywood
Number 6- "White Christmas"
Released in 1954, this classic Christmas movie is not only a perfect romantic choice, it's also good for the entire family. Bing Crosby, Rosemary Clooney (George Clooney's aunt), Judy Haynes are just a few of the big names that illuminate the screen in this one of a kind film. Two WW2 friends team up with two sister's to perform a Christmas show, and along the way create some Christmas miracles with plenty of singing and dancing scenes to boot. It's THE original Christmas movie that is a must watch for everyone, and if you haven't seen it yet, you should immediately amend that.
Where You Can Watch: "Netflix"
Photo by Vera Ellen Archive
This is another Christmas movie that is an absolute must see. It's a timeless classic that is guaranteed to bring you both joy and sadness all in one go. James Stewart plays Georgia Bailey, a depressed and frustrated man who is considering the worst thing imaginable, when he meets a guardian angel who shows him just how much he's loved, and how different things would be if he simply never existed. It's a beautiful and heartwarming story that everyone will love. Be aware- you're going to want to keep the tissues close watching this film- it will pull at your heart strings in ways you never expected.
Where You Can Watch: "Amazon Prime"
Photo by Elegance For Today
Number 8- "Holidate"
Netflix has produced several fantastic holiday rom-coms over the years, but this movie is one of the best. Emma Roberts and Australian actor Luke Bracey are two millennials who are sick of being single for the holidays. They agree to become one another's platonic "significant other" for an entire year of holidays. The only catch? No feelings allowed. We're sure you can guess, but over time feelings develop and the film follows their journey from strangers to possibly something more. It's an underrated, cute rom-com that might seem cheesy, but is actually pretty wonderful.
Where You Can Watch: "Netflix"
Photo by 4D Film Fest




Number 9- "Last Christmas"
This rom-com is a fanstastic watch. Emilia Clarke of GOT fame, and Henry Golding (Crazy Rich Asians) star in this endearing holiday movie about love, hope and even the meaning of the holiday season. Clarke plays a troubled young woman who finds herself working at an all year round Christmas shop, when she crosses paths with a handsome stranger (Golding). Their friendship turns into something more, and along the way there's discoveries about love, life, and everything in between. It's a beautifully done movie that's perfect to watch when you're cozy on the couch with your sweetheart.
Where You Can Watch: Rent on "Amazon Prime"
Photo by Enamoured Saying






Nine lives are intertwined for one of the most hopeful nights of the year in this ensemble cast film. Zac Efron, Jessica Biel, Sarah Jessica Parker- there's no shortage of well known stars. It's a sweet and heartwarming film that shows how the lives of different people in New York City are unexpectedly mixed together on New Years Eve. There's romance, friendship, and familial relationships that you'll be invested in all the way through. You might even be surprised with how some of their stories relate to each other. It's incredibly cute and worth a watch during the holiday's.
Where You Can Watch: "Hulu"
Photo by I'm Watching Stuff


So Sit Back, Relax, & Enjoy These Movies- Cheers To A Romantic Holiday Season!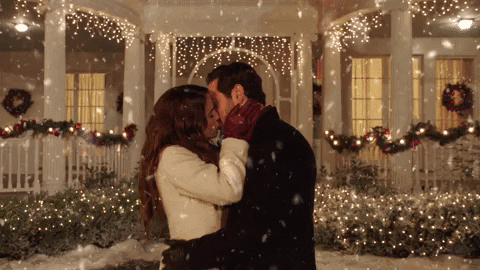 The Holiday's are such a magical time of year, even Thanksgiving! What did you think about our romantic holiday movie list? Let us know which ones are your favorite or if we left one out that we should have included. Send us a message via Etsy or Instagram to let us know your thoughts. Planning a holiday event, or something else like a bachelorette, or wedding? We're here to help. Check out our collection of DIY editable templates that will make creating your event and all of it's signage a dream! You can view and shop our collection of templates HERE